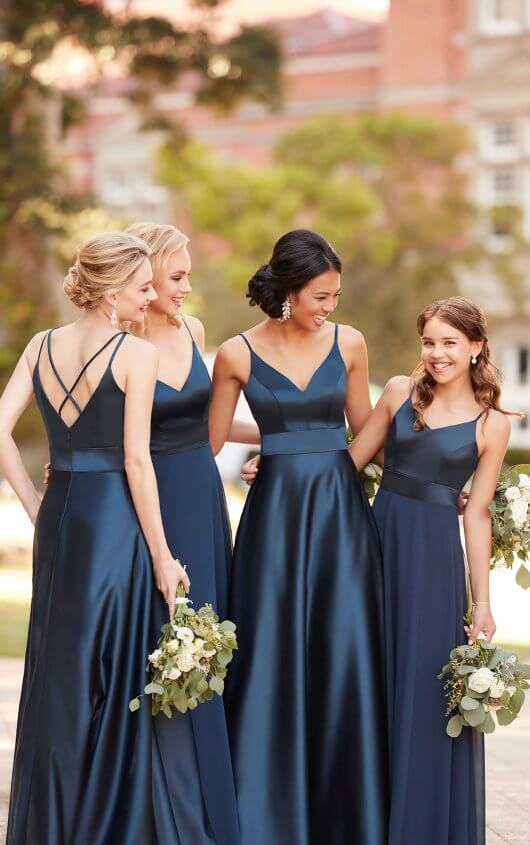 BRIDESMAID DRESSES BY SORELLA VITA
Few relationships are as meaningful or unbreakable as that between a bride and her bridesmaids. It is a bond formed out of love and respect, a friendship destined to last forever. Together they are sorella vita – " sisters for life".
When the bride gets her wedding dress, the fashion (and fun) is just getting started. Bringing the hottest runway designs and red carpet-inspired looks to life for every stylish wedding, Sorella Vita bridesmaid dresses feature an incredible range of fashion-forward designs that every bride and her 'maids will love. Imagined by the same Australian design teams that bring elegance and sophistication to life in the designer wedding gown collections of Stella York and Essense of Australia, Sorella Vita provides the perfect touch of personality and style to any bridal occasion and at prices for every consideration set.
Featuring well-crafted details that are modern and eye-catching, colours that are rich and bold, and fabrics that are posh and glamorous, the dresses of the Sorella Vita collection bring confidence and style to each bridesmaid and every wedding day.
Select from our extensive range of styles and silhouettes all featured in an amazing number of gorgeous, on-trend colors. From blush and rich burgundy bridesmaid dresses to sleek black or navy shades, to elegant long-sleeve styles and timeless chiffon looks with velvet detailing—there are endless shades and fabrics to mix (or match!) for your modern bridal party look. Whether your wedding style is all about classic romance or boho beauty, we've got every taste and trend covered. And with so many of our styles also available in plus-size and in juniors, there's a bridesmaid dress for every 'maid-to-be and more!